So I'm in South Carolina right now! I'm here visiting some friends--
Jimmy
from high school who just got a job in Columbia and Austa who I met in Boulder, CO last summer while we were doing science and exploring the west together :). As i was telling some of my friends, I feel pretty guilty taking what is essentially a vacation right now because there is so much work left to do, and there are so many people back home, not vacationing, who have helped me do it. However, I suppose even in my first day and a half here I haven't stopped working. In fact I think most of what I have left to do doesn't require me to be at home anyway. Plus, this place has definitely proven to be good for my training. Haha. The hills are so much bigger here!! It's making me feel very unprepared, but I guess all I can do now is just keep biking!
Also, I've finally finished acquiring all my gear! Here's a picture of
my bike
!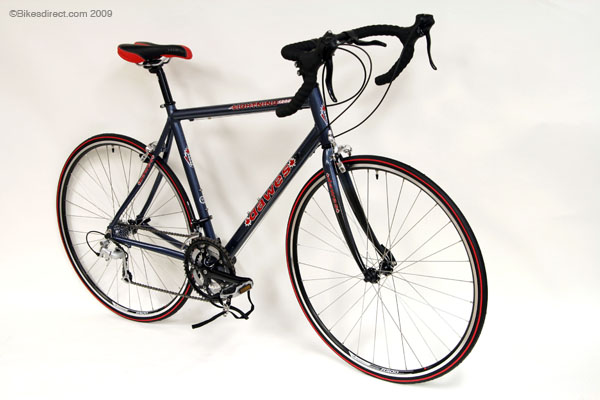 I probably risked a little getting a brand that no one's heard of, but from what I can tell it's a pretty nice bike, and I'm sure it'll make it to Florida :). I've also put clipless pedals on it... which are pretty challenging to get used to. Haha. Jimmy and I went for a ride last night--my first ride with the new pedals--and I think I nearly fell over 3 times... once when we were just out of the parking lot. Every time I clip one foot out thinking I can lean on it, and I somehow end up leaning the other way, toward the side of the bike that has my foot still attached to it :). I survived without any injuries though, haha, and after that ride and the one this morning, I'm getting the hang of it. It makes going up hills quite a bit easier because I'm using some extra muscles that were sort of useless before. The gloves I got also make a pretty significant difference. I rode yesterday without them and today with them, and today lacked many of the annoying vibrations. Woo. So with those upgrades to my collection of biking gear plus three pairs of fancy padded bike shorts, a multi-tool, spare tubes, a patch kit, chain lube, a three pack of cycling socks, and my new helmet, I've spent quite a lot of money on this bike adventure. But with those things, and a few bike related gifts from some friends and family (a fancy bike speedometer/odometer/altimeter as an early Christmas gift from
Dan
, a hydration pack from Josh, and a water bottle cage, and tire pump from Uncle Ron), I think I finally have everything I need to survive the ride! And I'm sure it's all going to be worth it--not only is it a good cause, but it'll probably be one of the coolest things I'll ever do!